Five questions about fertility for veterinarian Eline Willems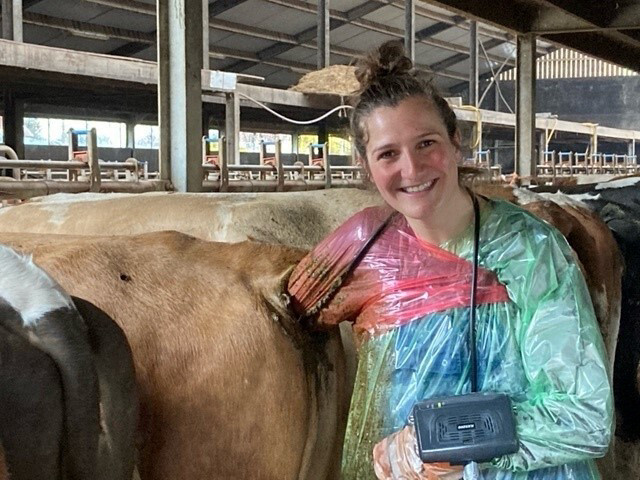 CRV has everything it takes to help farmers improve the fertility of their herds. In a series of short interviews, employees who deal with fertility on a daily basis explain what this means in practice.
Nowadays Eline Willems. She trained as a veterinarian and provides fertility counselling for dairy farms in Flanders. She also works as a permanent replacement for several fellow AI veterinarians.
How do you assist farmers with the fertility of their herds?
'To me, a herd of cows is more than a collection of ovaries and wombs to be inseminated and scanned. Good fertility is an important condition for farmers who want to get a good return from their herd. To me, thinking along with farmers in this regard is important. This means that I also take the numbers into consideration and try to identify points for improvement.'
What makes crv particularly suitable to support farmers when it comes to fertility?
'CRV offers farmers a complete package: from semen and nitrogen to fertility services. What's more, we work with a team of people who are motivated to achieve the best results for farmers. This complete package clearly distinguishes us from our competitors.'
Everything affects fertility, and fertility affects everything
What is your golden tip for farmers?
'Fertility counselling goes beyond just scanning for pregnancy. I also like to check in on cows one month after calving, on cows that are not yet in heat after two months, for example, cows that are in heat irregularly, cows with a purulent discharge and cows that fail to fall pregnant after four inseminations.'
'I always advise farmers to work according to a fixed system. If you don't, there's a real risk that problem cows will disappear from the radar. And if you only find out 150 days into lactation that a cow has never been in heat because of PVD or cysts, you will find yourself overtaken by events. However, if you keep a finger on the pulse and stay on the ball, you can keep ahead of problems and really make a difference in the fertility results. Not every farmer adopts my working methods. That is ultimately up to them, of course. But I'm convinced these farmers are missing out on money.'
What have you learned about fertility in your job as a fertility counsellor?
'Over the years, I have increasingly discovered how complex fertility is and how fertility affects farmers' business results. 'Everything affects fertility, and fertility affects everything'
What is your greatest fertility success story?
'Successful farms are farms where the farmer himself is fanatical about fertility. You can achieve amazing results with good cooperation at these types of farms. But it is also motivating to help a farmer if things are not going so well. As an example, one of the herd advisers in Flanders struck up a conversation with a farmer who occasionally sourced semen from CRV. The farmer was willing to give us a try and we took the opportunity. We have been working with a motivated colleague for two years now, and the numbers have improved considerably. The farmer is very happy, but I'm sure we can do even better.'
Targeted work on fertility
CRV is leading in fertility by offering several solutions aimed at enhanced fertility. The high level of data collection by Dutch and Flemish farmers ensures that the breeding values for fertility are one of the most accurate and reliable indexes in the world.
CRV offers several solutions:
Top ranking sires of various breeds that improve daughter fertility and have an excellent reproductive capacity
The CRV Ovalert system that uses advanced sensor technology to detect and identify health and fertility signals early and very effectively
The mating advice programme SireMatch to breed cows with better fertility
Genomic herd management solution HerdOptimizer Go that makes managing your herd easy and allows the selection of animals with the highest genetic level for fertility