Leading in health and efficiency in US Holstein population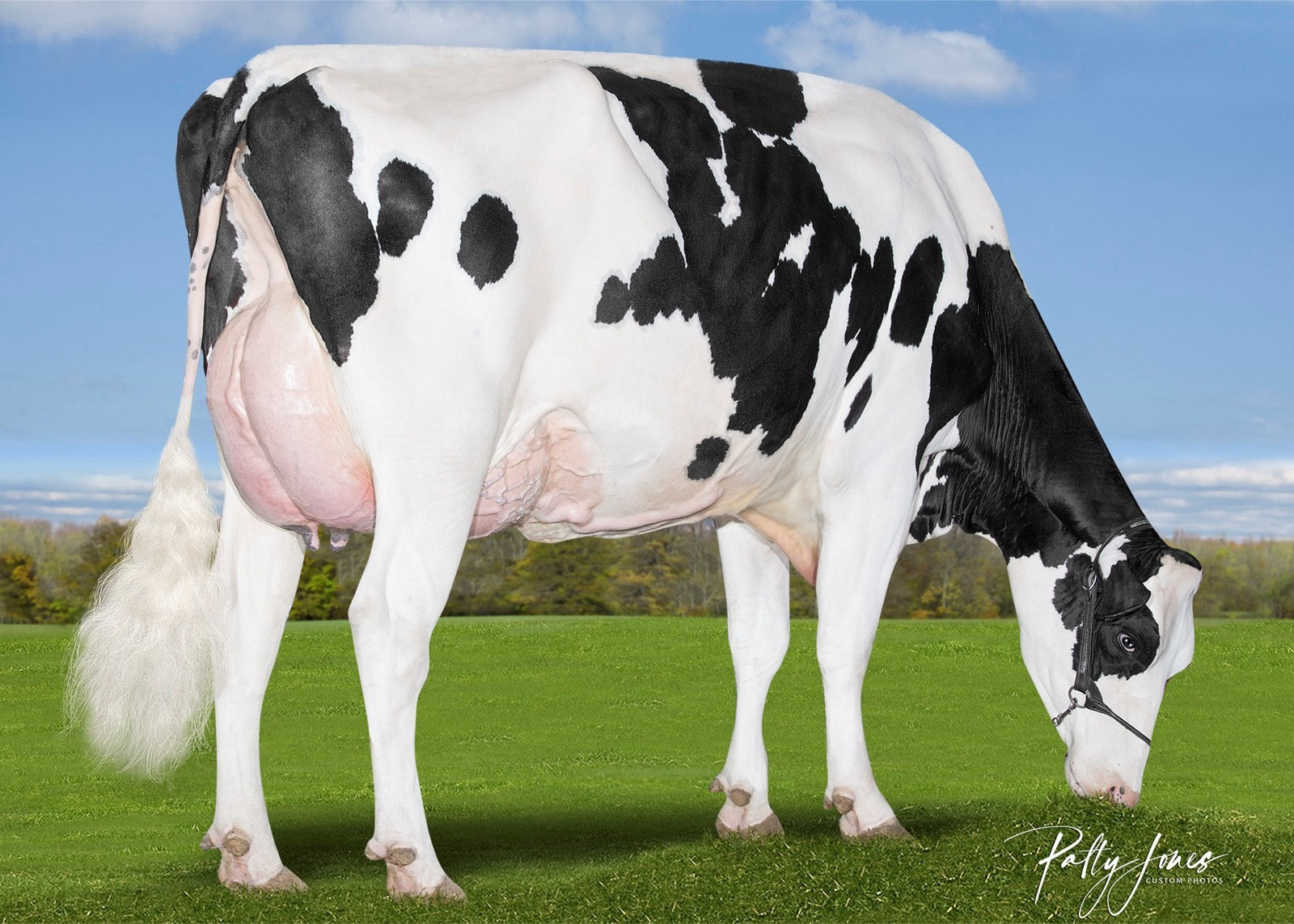 The United States is a leading centre of Holstein breeding. CRV operates its own breeding programme there, which has resulted in a broad, internationally competitive offering of top-ranked TPI bulls. CRV's bulls are unique thanks to the exclusive breeding values for feed efficiency, CRV Health and CRV Efficiency.
Series part 3: Holstein in United States
CRV operates professional breeding programmes for different breeds in various regions of the world. These diverse breeding programmes are driven by one clear vision: CRV want to help dairy farmers progress by offering genetics that are leading in health and efficiency.
Numbering some nine million cows, about 20% of which are registered in the herdbook, the United States is home to the world's largest population of Holsteins. This makes the USA the cradle of international Holstein breeding. For many years, CRV has also selected genetics for its breeding programme from the premier segment of the American population. Large numbers of embryos flushed from the best bull dams were already being exported to Europe back in the 1980s. This resulted in a series of bulls that were used intensively for breeding. And many of the female animals descended from these imported embryos now form the foundations of leading cow families in Dutch and Flemish breeding circles.
Buying from breeders
'CRV has always been an active player in the United States through cooperation with various other parties and since 2009 we have operated our own breeding programmes there', says Gerbrand van Burgsteden, Senior Breeding Analyst at CRV's product development department. He is responsible for selecting the American CRV bulls, together with his American colleague Joe Stanek.
The bulls from CRV's US breeding programme are housed in North America and are available for the American and international markets. Currently 25 bulls are used each year. In consultation with van Burgsteden, Stanek buys around two thirds of these bulls directly from breeders. Some bulls are acquired at cattle auctions. 'We use the genomic breeding values for TPI and conformation to select the most promising bulls and also base our choices on our indexes for feed efficiency, CRV Health and CRV Efficiency,' explains van Burgsteden (see text in box). Gil Gar Fumagalli is a fine illustration of a bull acquired from breeders in the current CRV portfolio. He has a breeding value of +2685 GTPI, 1.86 PTAT and +5% CRV Health and +4% CRV Efficiency. He boasts a gilt-edged family that has proven and continues to prove its breeding prowess worldwide. The foundation dam of this family is the 91-point registered, excellent Ked Juror daughter Ralma Juror Faith.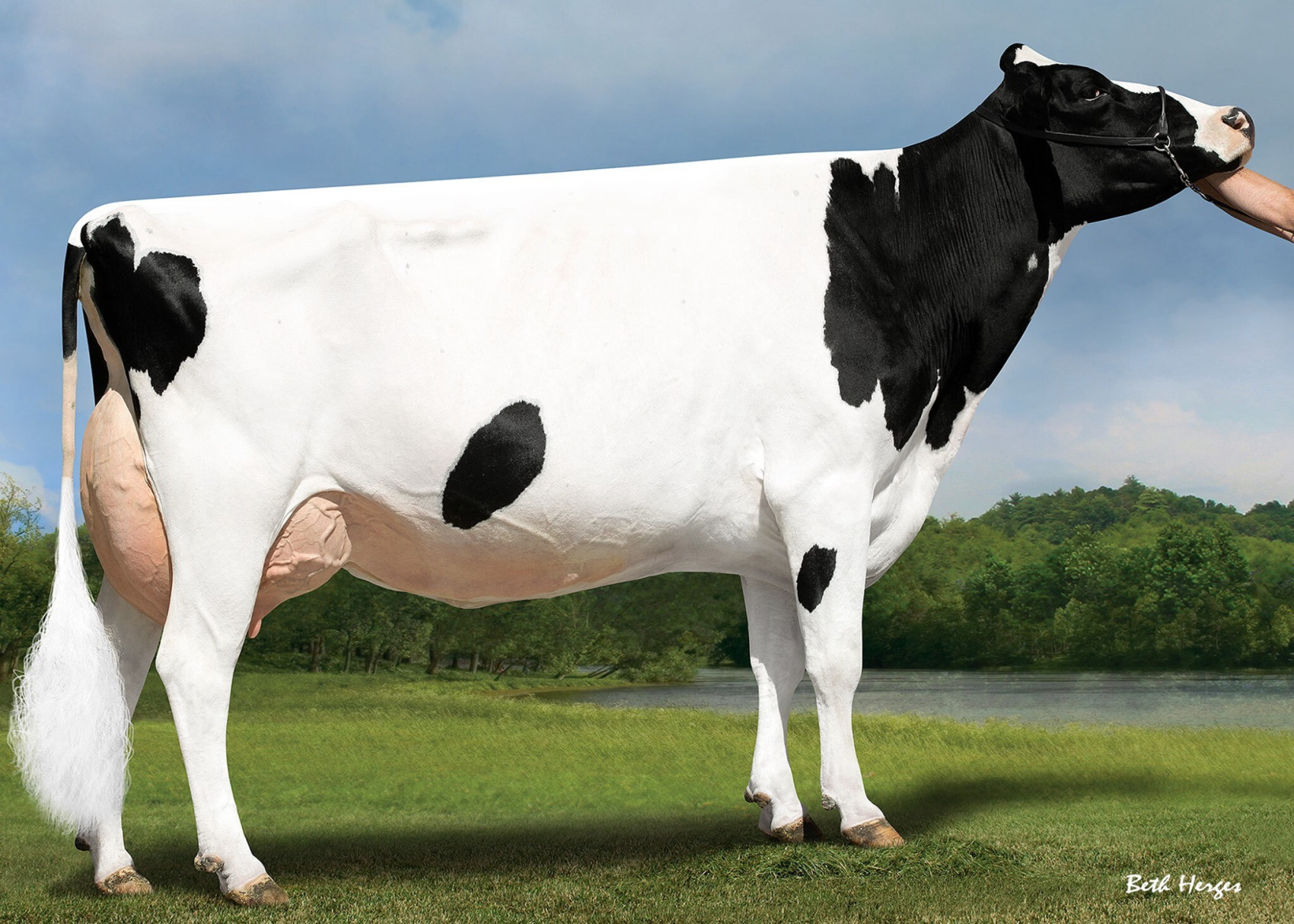 Partnership in Peak
About a third of the bulls in CRV's US genetics portfolio originate from the Peak programme that CRV operates in the United States in cooperation with a number of fellow AI organisations. 'The basis of the Peak programme is the acquisition of young female animals with high genomic breeding values', explains van Burgsteden. 'These potential bull dames are used intensively as donors. The result is many thousands of embryos every year. These are used on the recipient cows at the Peak farms and all their calves are given a genomic breeding value. The highest scoring heifers return to the Peak programme while Peak offers the highest ranking bull calves to the other partners in the programme. They divide the most interesting bulls amongst themselves before making the semen of the animals available to the market through their own organisations.
By participating in the Peak programme, CRV also invests in buying the highest ranked donors from American cow families with a long, proven track record in breeding. This enables us to offer farmers a highly competitive US-bull portfolio', explains van Burgsteden. 'CRV now enjoys better than ever representation in the upper segment of genomic bulls. We currently have six bulls in the Top 100 GTPI list', he indicates.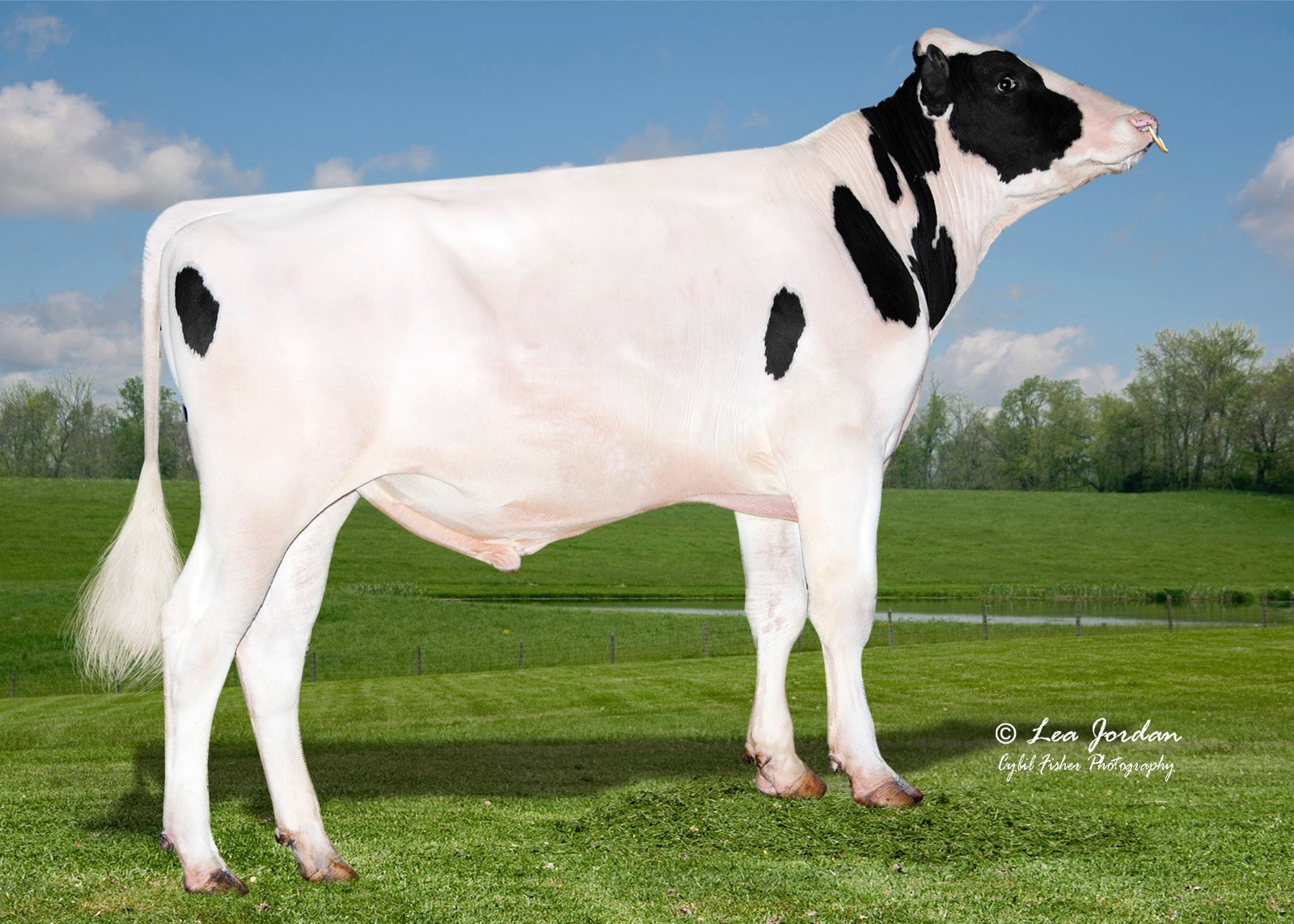 Comprehensive bull portfolio
CRV does not restrict its selections in the US to Holsteins alone. A major share of the Jersey bulls in CRV's portfolio are stationed in the United States. And to satisfy the rising demand for semen from beef bulls for the beef on dairy crosses, semen is also available from the very best Angus bulls. In this way, no matter what the breeding goals, CRV can always serve every farmer with a comprehensive bull portfolio to suit their needs.
CRV bulls, leading in health and efficiency
CRV's American bulls have a full set of American (genomic) breeding values, issued by the data centre CBDC. All the bulls have a (G)TPI, NetMerit and PTAT breeding value. CRV's bulls offer distinctive value thanks to their breeding values for feed efficiency, CRV Health and CRV Efficiency.
CRV Health combines the breeding values for udder health, hoof health and daughter fertility. The score for CRV Health is expressed as a percentage that indicates the extent to which the combined breeding values of a bull differ compared with the average score of the population. A score of +6% CRV Health means the daughters of that particular bull will have three percent fewer health problems.
The feed efficiency breeding value - calculated by CRV exclusively for its own bulls - is expressed as a relative breeding value with an average of 100. A score higher than 100 represents more efficient conversion of feed into milk. For example, daughters of a bull with a breeding value of 108 for feed efficiency will produce on average four percent more milk from the same amount of feed than daughters of an average bull. With production of 10,000 kg of milk that converts to an extra 400 kg of milk for no additional feed costs.
The combined breeding value CRV Efficiency is calculated using the breeding values for production, longevity and feed efficiency. A score of +6% CRV Efficiency means that from all the feed they consume during their lifetime - including during the rearing and dry periods - daughters of a certain bull will produce on average three percent more milk than the daughters of an average bull.
Thanks to its exclusive breeding values for feed efficiency, CRV Health and CRV Efficiency, CRV makes it even easier for farmers to breed problem-free herds that produce milk efficiently.
From 9 million cows to 25 bulls each year
From the gigantic population of nine million Holstein cows in the United States, CRV annually selects 25 bulls that are available on both the American and international markets. This selection is achieved partly by buying young bulls directly from breeders and partly through participation in the Peak programme.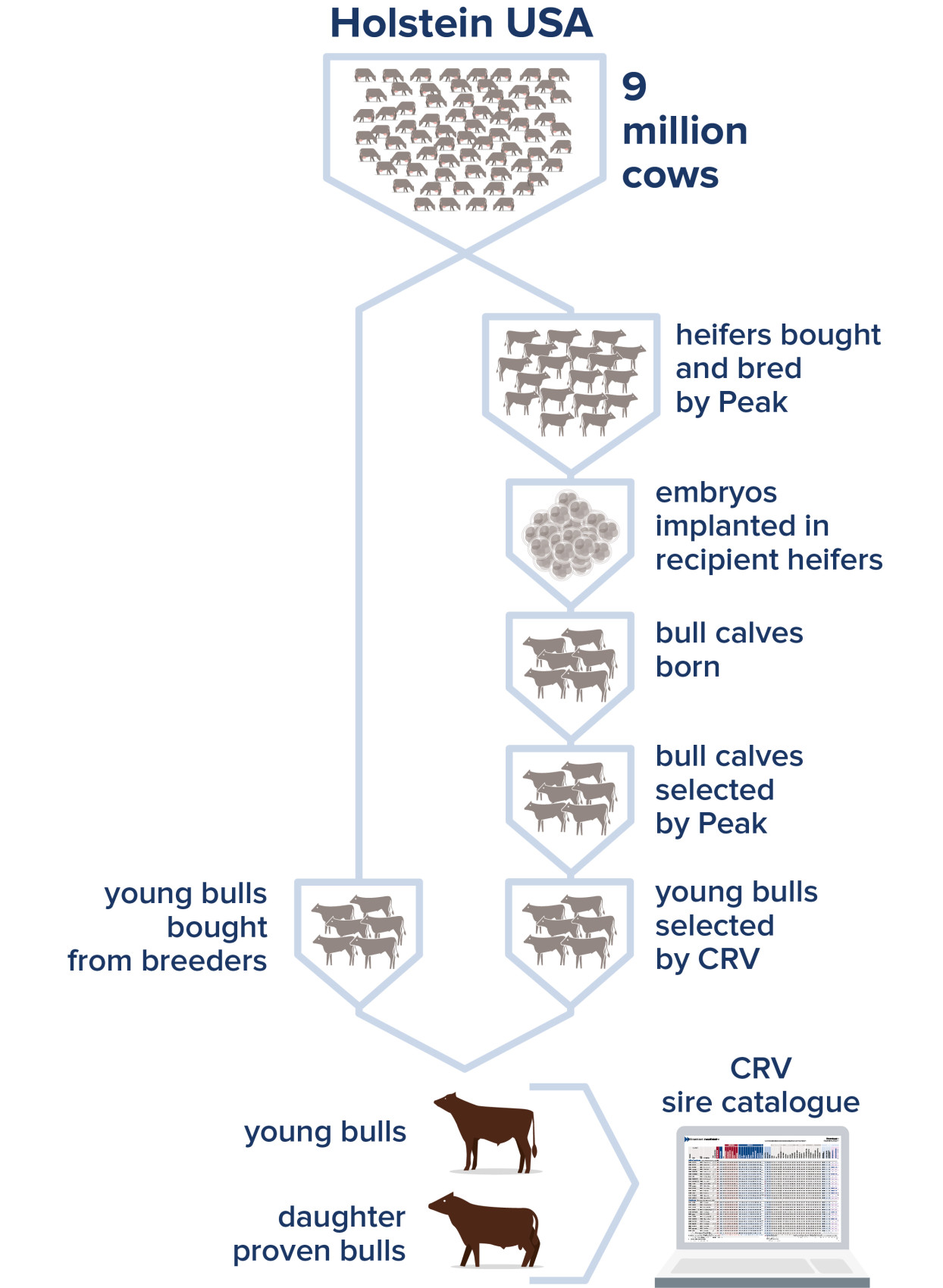 Series: It takes a special bull to become a CRV bull