'Cows that utilise feed well, keep the cost price low'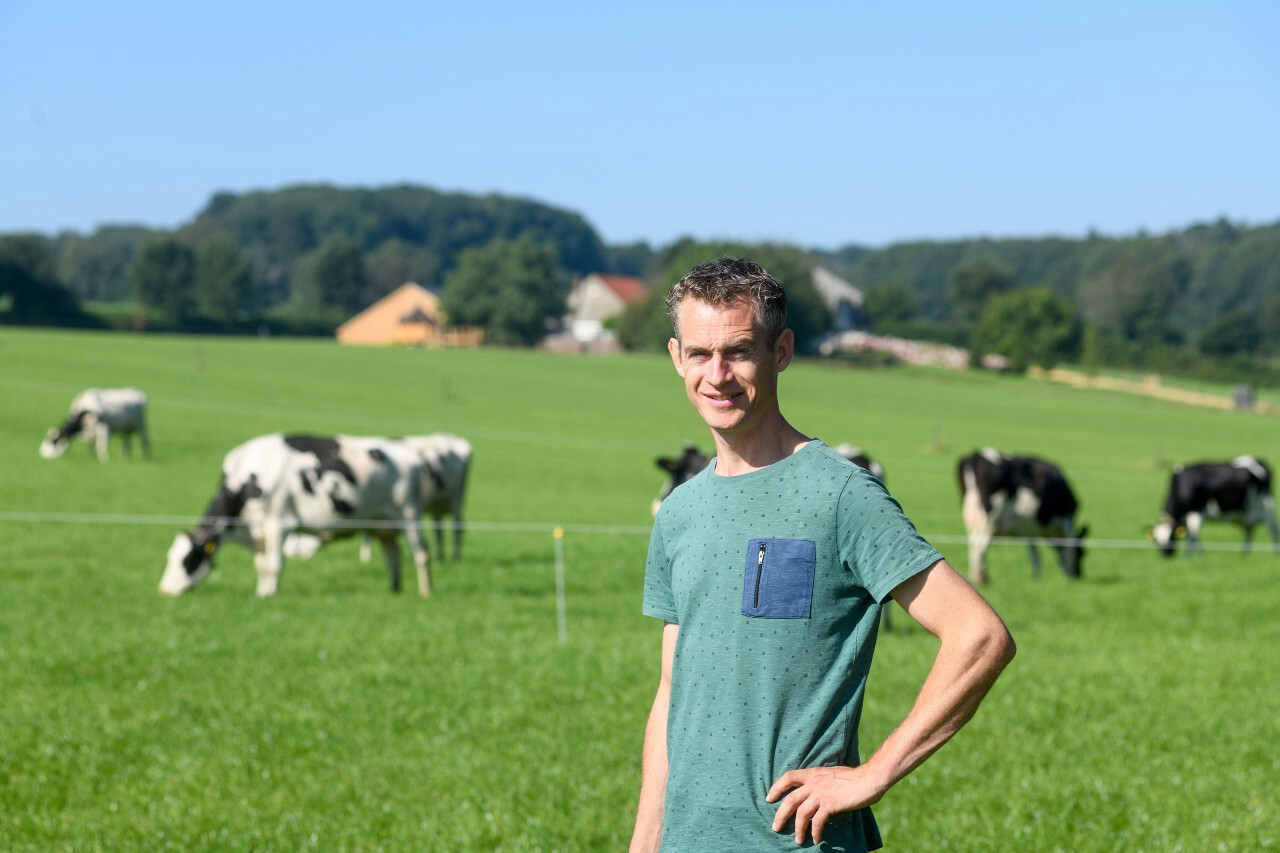 Dairy farmer Hans Janssen wants to maximise the potential of what he has to the full. His land, the milking robots and the forage he grows on his farm. 'We need cows that convert feed efficiently into milk' he explains. 'That is where breeding can also help.'
On Hans Janssen's farm in Groesbeek, 2021 was also an extremely fertile year with good crop growth that compensated for the shortages in recent years. 'With production totalling around 18,000 kilos of milk per hectare, our farm normally has no problems in providing its own supplies of forage. But three years of drought in a row literally ate up all our stock and last winter we had to buy brewer's grain and grass seed hay from elsewhere', he says. Hans has a farm located in the gentle hills of the province of Gelderland with around 115 cows and 70 heads of young stock, and works in a partnership with his father Harrie and brother Jeroen. Two robots milk the herd that produces a rolling annual average of around 10,900 kilos of milk with 4.25% fat and 3.65% protein.
High utilisation, low costs
His experiences in recent years have served to confirm that good feed utilisation is a key success factor for sound financial returns. But he already knew that a long time ago. 'Before I joined the family farm for good, I worked at an agricultural consultancy. That is where I learned a lot about the value of feed efficiency. Cows that utilise feed well, keep the cost price of milk low', he is convinced. Janssen regularly calculates how efficiently his herd converts feed into milk during the winter season. 'When things all run smoothly, the cows produce on average more than 1.5 kilos of milk from a kilo of dry matter feed intake', he says. 'To maintain feed efficiency, we aim for a calving interval shorter than 400 days and a uniform calving pattern so the average number of lactation days is kept between 170 and 180. This approach also helps us maximise the milking capacity of the robots' he explains.
Avoid an obsession with feed efficiency
Janssen has learned that the main factors that determine feed efficiency are the quality of the forage, the health of the cows and the fertility of the herd. But he also notices differences between individual cows. According to him, this suggests that breeding offers the potential to increase feed efficiency. 'The SireMatch mating program helps us make the best mating propositions. And now that feed efficiency can also be factored in, it's a tool we will certainly use' he says. 'But you have to avoid an obsession with feed efficiency' emphasises the dairy farmer. 'There are no benefits to be gained from cows that are highly productive on a low feed ration if that is at the expense of their body condition and general health. SireMatch helps us to breed cows with the right balance.'
Breeding can help
'You can only achieve efficient feed conversion into milk provided the cows are healthy and fertile and if the ration is right for the cows', Janssen stresses. 'But I'm convinced that breeding can also help in boosting the feed efficiency on our farm.'
'SireMatch helps us make the best mating propositions. Feed efficiency is a tool we will certainly use.'
Feed efficiency now also included in SireMatch
In December 2020, CRV introduced the breeding value feed efficiency. This breeding value indicates how many kilograms more of milk daughters of one bull produce from a kilo of feed compared with daughters of another bull.
The breeding value feed efficiency is a relative index with an average of 100. A score above 100 indicates better feed efficiency. Every four points in a bull's breeding value represent production of two per cent more milk from the same feed ration by his daughters. Daughters of a bull with a breeding value for feed efficiency of 108 will produce 400 kilos of milk more annually than daughters of a bull with a breeding value of 100 from the same feed ration (with average production of 10,000 kilos of milk per cow per year). At a milk price of €0.35 per kilo, this translates to extra income over feed costs of €140 per cow per year.
From October, the breeding value feed efficiency is also included in SireMatch. Making it even easier to focus on breeding a herd that converts feed into milk more efficiently. Are you curious to discover what SireMatch can mean for your farm and how it can help you breed a herd that efficiently converts feed into milk? Contact your CRV Breeding Adviser or local distributor.

Read more about the integration of feed efficiency in SireMatch.