Brazilian AI market is showing explosive growth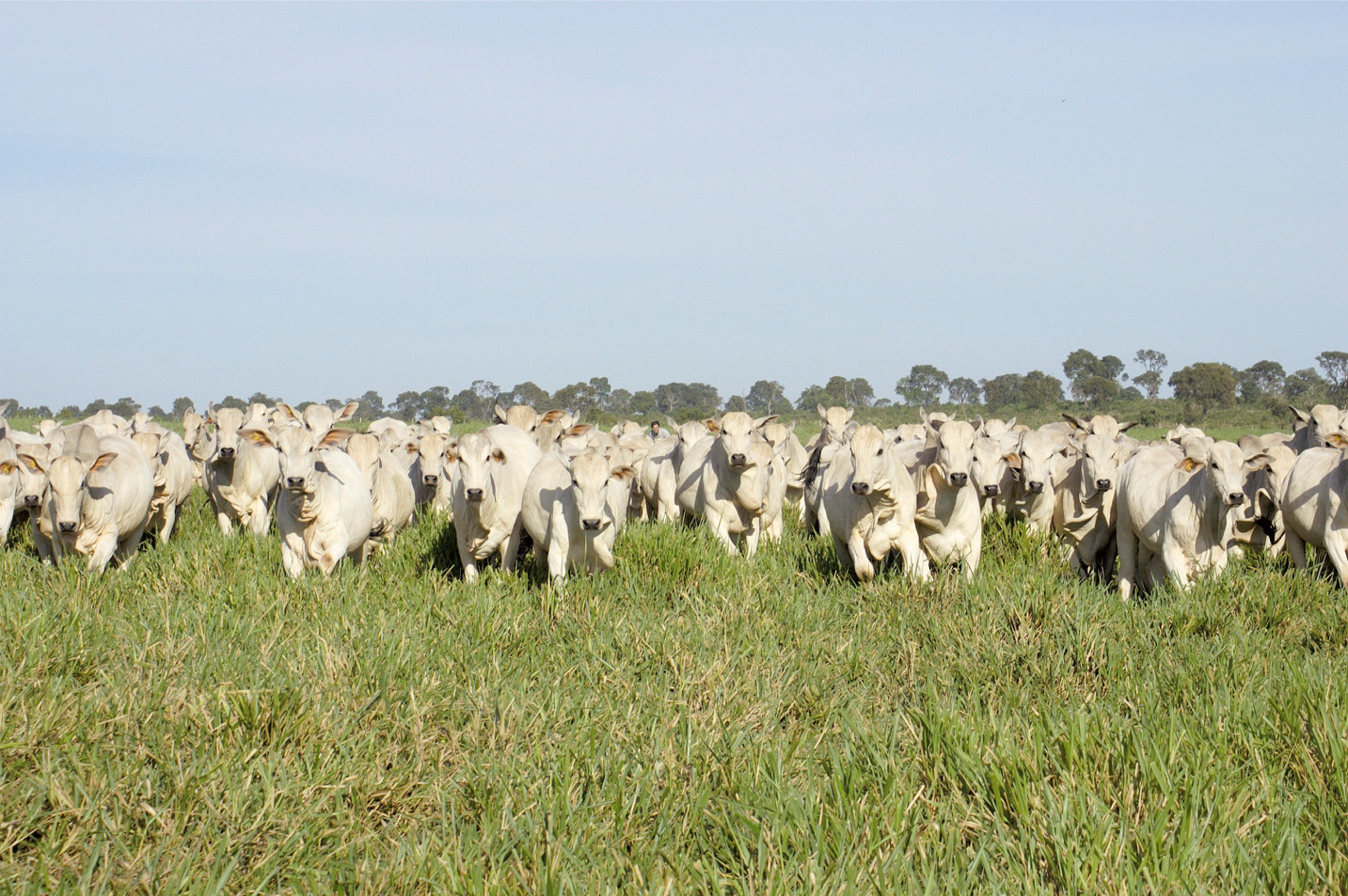 Bulls housed outdoors and an AI market that grew by more than 30% in a year. CRV's branch in Brazil operates in completely different conditions than in many other countries. So, it's high time to get acquainted!
From the largest AI station in South America to a TPI breeding programme in North America, from bulls with a mixture of Holstein and Jersey bloodlines in New Zealand to dual-purpose Fleckvieh bulls in Central Europe. Our international markets also make an important contribution to the company's turnover. This series of articles introduces them one by one. Our first port of call is South America.
The growth figures sound impressive. In the 2018-2019 financial year, the Brazilian AI market grew by 19%. But that pales in comparison with the 2019-2020 financial year: the AI market grew by another 31% to reach about 22 million doses. The South American branch of CRV has felt the benefits of this strong surge in demand. 'For years, we were in the red with our figures in Brazil', says Rudi den Hartog, who has been at the head of CRV in Brazil for two years. 'But last year, for the first time in years, CRV turned a profit here.'
Beef cattle are clearly the driving force behind these positive figures. Last year, the insemination market for dairy cows expanded by approximately 10 to 12%, whereas growth in beef was significantly higher. Den Hartog explains the simple explanation behind the facts. 'Due to the outbreak of swine fever in China in 2018, demand for pork and chicken from Brazil increased enormously, with a higher demand for beef in its wake. Meat prices have risen sharply, which encouraged companies to expand.'
Land, sun, light and water
According to den Hartog, Brazil offers all the necessary space to accommodate expansion. The country is already the world's largest beef exporter, with volumes reaching some 2.3 million tons annually. 'We have land, sun, light and water in abundance. The climate allows us to grow three crops a year. In January, the soya is harvested, then we can sow maize and tropical grass on the same plot. With good management there are no limitations, but people have to be willing to invest.' Den Hartog mentions the 200 million hectares of grassland in Brazil. 'Of that area, about 130 million hectares consists of old, poorly fertilised grassland. With the right fertilisers and new varieties, tropical grass can grow 8 to 10 centimetres a day here. We currently produce 67 kilograms of beef per hectare a year in Brazil. This amount can easily be tripled or quadrupled', according to the Dutchman, who has lived in Brazil for 37 years.
Percentage of AI: 22%
From large farms with 50,000 beef cows to small-scale farms with 10 to 20 dairy cows, the variety in farms is immense in Brazil. 'The majority of dairy farms have around 300 to 500 cows. Most beef farmers have 3000 to 5000 head of cattle', says den Hartog. All the farms together have around 214 million cattle. Beef cows account for more than three quarters of the Brazilian herds; almost a quarter is accounted for by dairy herds.
But the percentage of AI is low: just 22% of female animals of fertile age are inseminated. And that percentage is even slightly lower in the dairy segment. 'So, basically, there is massive potential', den Hartog indicates. 'We are now considering starting up insemination courses again. We have to teach farmers how to inseminate, otherwise we cannot grow.'
The insemination process in Brazil differs to the one farmers in the Netherlands and Flanders are used to the one European farmers are used to. Farmers use hormone treatments to synchronise heat in the herd. This allows them to inseminate the animals in a short space of time. 'This is an ideal solution, especially on large beef farms that cover thousands of hectares', says den Hartog. 'On that scale, it's much easier to bring all the cows together than to pick them out individually for insemination.'

500 bulls outdoors
Den Hartog sees the best signals that the AI market is growing in Brazil at his own AI station Bela Vista. 'Last year we saw explosive growth in the number of bulls semen is collected from. There are now 180 more bulls at Bela Vista than a year ago at this time.' Bela Vista is CRV's flagship in South America. The state-of-the-art AI station is located in Botucatu in the state of São Paulo in southern Brazil, about three hours' drive from CRV's office in Sertãozinho. The 130-hectare site is at altitude of 1100 metres. 'That makes it a pleasant environment, especially for the Angus bulls. They can cope better when the climate is a little cooler', explains den Hartog.

Its isolated location – there are no dairy or beef farms at all in the surrounding countryside – is another reason CRV chose this site. The land extends to 130 hectares, so the breeding organisation can also grow its own supplies of forage. The AI station opened in 2017 and has enough space for about 500 bulls. It is home to Holsteins, but the tropical dairy breeds Gir and Girolando, and beef breeds such as Nelore and Angus are also represented. They each have their own outdoor areas, including a shelter. Paved paths lead the bulls to an indoor semen collection hall, where 75 to 80 bulls mount the AV daily. Via a pneumatic system installed underground, the produced straws are sent directly to the laboratory
Largest AI station in South America
Last year Bela Vista produced more than 4.1 million straws of semen. 'One out of every three straws produced in Brazil originates here', den Hartog states proudly. 'Bela Vista is the largest AI station in South America.'
The straws are not only intended for their own use. About 45% are used by CRV, which houses around 180 to 200 of its own bulls in Botucatu. Other AI organisations also use the facilities at Bela Vista to collect semen from their bulls. 'This often involves bulls that have difficulty producing semen. But here on site we usually get them to perform successfully', den Hartog indicates. Larger dairy and beef farms also use Bela Vista to freeze semen from their bulls.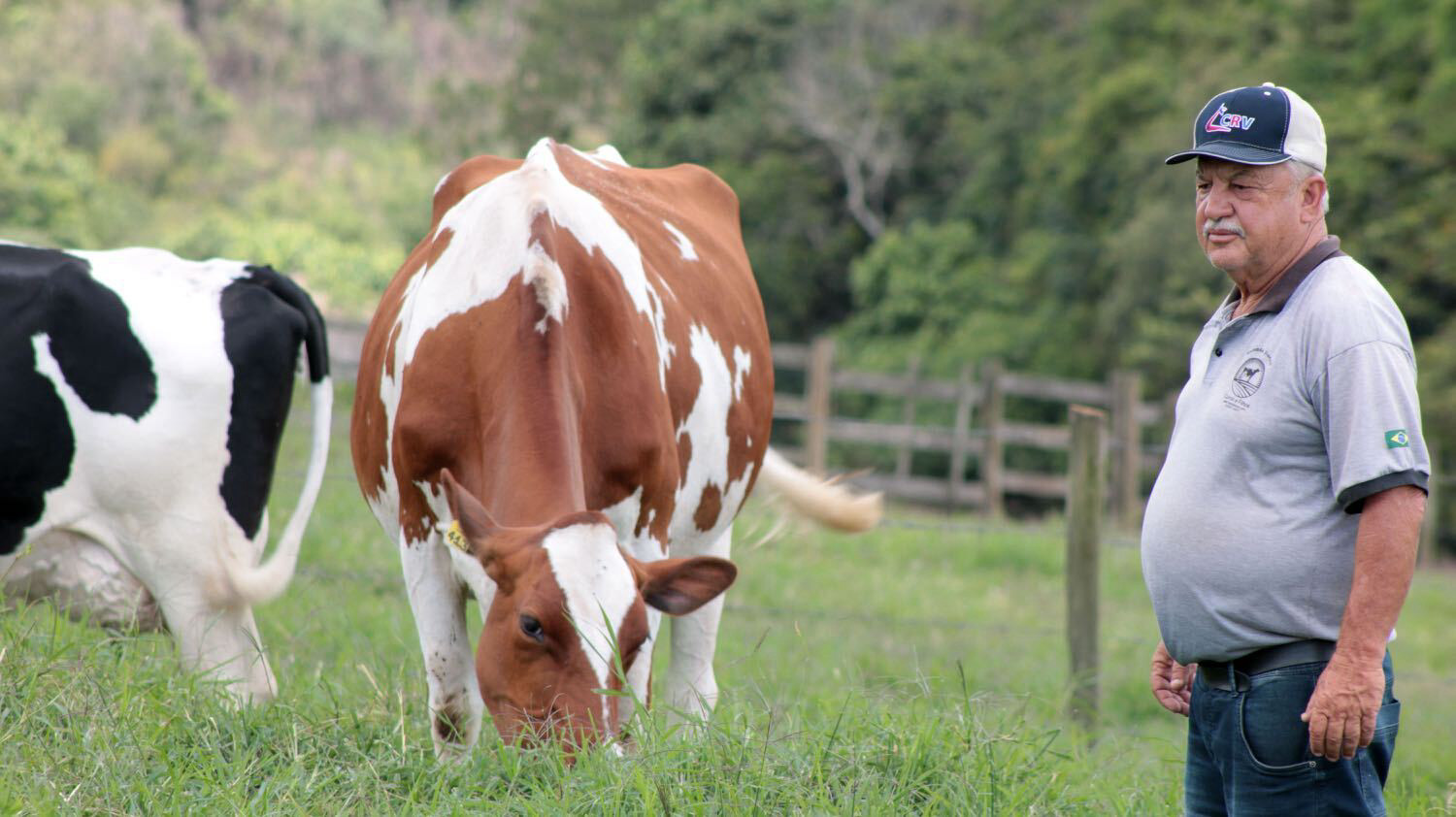 LUIZ MARCOS CURCIO: 'OUR AIM IS 40 KG PER COW PER DAY'
There are more than 100 dairy cows in Luiz Marcos Curcio's herd. The farmer from Itororó in the state of Minas Gerais also owns 240 hectares of land, of which 130 hectares are used for to grow maize, soya and wheat. He also has 10 hectares of eucalyptus forest. His studbook-registered Holsteins, three quarters are black-and-white, and a quarter are red-and-white, produce 34.7 kg of milk a day. He is paid €0.32 per kilo of milk. 'The main motivation for choosing Holsteins was production, longevity and health', says Curcio. 'On top of that, they are an easy breed to sell.' The Brazilian dairy farmer has his breeding goal firmly in his sights. 'We are aiming for average milk production of 40 kg per cow per day and we ultimately want to produce 5000 kg of milk every day.'
Curcio consciously applies artificial insemination. 'The results are great, and the costs are reasonable.' On average, he needs 2.13 inseminations for the older cows. The calving interval is 410 days.
Towards 7.5 million straws
If it's up to den Hartog, four million straws is not the end. 'In three years, we want to grow towards production of 7.5 million straws', is how he reveals his ambitious plans. Last year 75 new outdoor areas were added for the bulls, but in den Hartog's view, that number must double. Constructing a second semen collection hall is also scheduled. By upscaling, den Hartog also hopes to increase CRV's sales of semen. Last year CRV sold 2.4 million doses, but the managing director is not yet satisfied with the figures. 'We need to hit three million straws as soon as possible. But my ultimate goal is six million, with beef as the main sales segment.' Beef cows now have a 75% share in the Brazilian insemination market, divided equally between Nelore and Angus. The latter breed is also widely used to cross with Nelore, which is traditionally the most important beef breed in Brazil. 'Angus is in high demand, because the animals grow faster and the meat has more marbling', says den Hartog. 'Fattening Nelores takes quite a long time, but they can cope with the conditions in Brazil much better. That is why crossing these breeds is so popular. We also increasingly seeing Angus bulls being crossed with the tropical milk dairy breeds.'
Beef cattle also play a prominent role in exports. CRV exports about 130,000 doses each year from Brazil. The aim is to triple this volume to about 500,000 doses within five years. 'We can sell semen from Nelore and Angus bulls well in the surrounding countries, and we export semen from the tropical Gir and Girolando breeds to countries such as Ecuador, Colombia and Guatemala.'
No own breeding programme
CRV Brazil does not run its own breeding programmes for Holsteins and tropical dairy breeds, nor for beef breeds. 'We acquire bulls from contracted breeders. We rely on bulls from the TPI and NVI programmes for Holsteins. There is quite a good market here for NVI bulls, but 90% of the Brazilian Holstein market is American-bred.' The use of embryos is a growing trend in Brazil. 'Farmers are discovering that this leads to faster progress. I know a dairy farm that has grown in a short time to production of 21,000 kilograms of milk by using embryos. Their goal is 60,000 kilograms of milk per day', according to den Hartog.
It's not just dairy farmers who are recognising the benefits of using embryos. 'Beef farmers are also showing an increased tendency to use embryos more frequently. They see the added value of uniform beef production. Some farms use 5,000 to 10,000 embryos a year.'
Key figures Brazil
population: 210 million
surface area: 8.5 million square kilometres
number of beef cows 164 million
number of dairy cows: 50 million
annual beef production: 10.2 million tons a year
number of cows slaughtered annually: 40 million
percentage of AI: 22%
annual sales CRV Brazil: 2.4 million doses
annual exports CRV Brazil: 130,000 doses