Peeldijker Liesje 992 confirms her lust for life and production with 100 tons of milk in Liesje cow family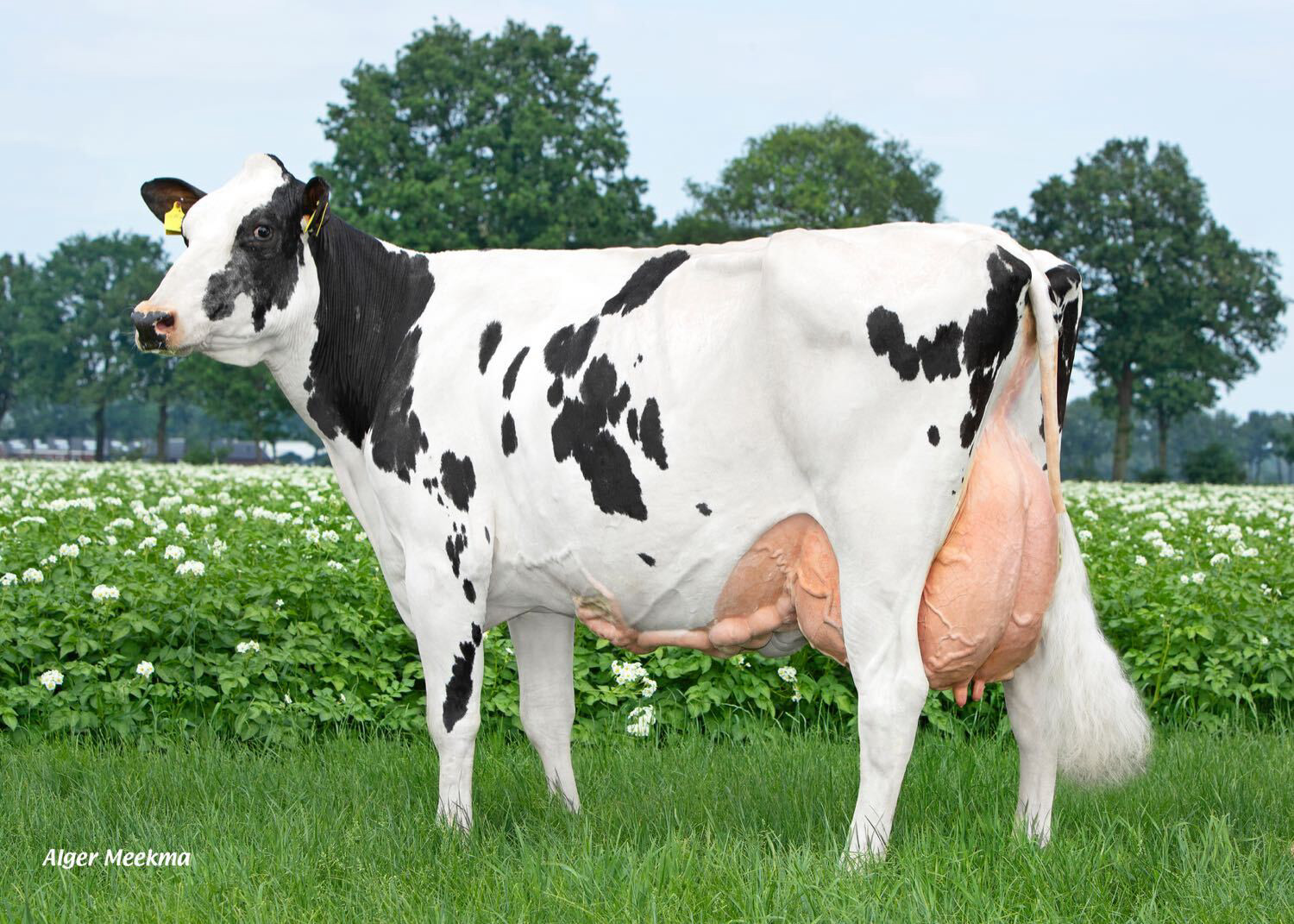 'They're basically just really good, ideal dairy cows, who look after themselves, have no problems and produce plenty of milk.' This is how dairy farmer Jan Priems describes his Peeldijker Liesjes. Accounting for some 80% of the herd, this cow family is certainly the most important name at the dairy farm in De Mortel, where 130 cows tally up a rolling annual average of 11,850 kg of milk with 4.45% fat and 3.54% protein.
Excellent foundation dam with 133,000 kg of milk
All the Liesjes can be traced to Peeldijker Liesje 385, a 90-point registered daughter by Newhouse Ronald out of a Tops dam. 'She wasn't a show ring queen, but still a cow you couldn't fail to ignore who had all the ingredients to grow to a great age and produce lots of milk with ease in the meantime', Priems recalls.
Liesje 385 was born in 1998 and would go on to record lifetime production of over 133,000 kg with 4.08% fat and 3.57% protein (10,195 kg fat and protein). And she became the dam at the foundation of an extensive and consistently well-breeding cow family in both the female and male lines. One of her direct descendants in the fifth generation is the extremely popular InSire Topstier Delta Lunar.
Problem-free cow with superb production
A shining example of the longevity and ease of production that characterises the Liesje line is Peeldijker Liesje 992 (s Ludiek Bluejay). 'She's my current favourite. As a heifer, her high genomic breeding values were full of promise, and she has certainly fulfilled the expectations', says Priems. 'She has superb production and precisely the conformation I like to see. And she is a trouble-free cow, who never needs any special care.'
At less than ten years old, Liesje 992 recently passed the milestone of 100,000 kg milk (with 4.44% fat and 3.62% protein). On average over six lactations, she achieved a lactation value of 117 with the notable fact being that she achieved her highest lactation values in her fifth and sixth lactation. Priems' favourite Liesje was awarded 87 points for conformation including 88 for udder and 89 for feet and legs.
Great-grand dam Limbic and Cranberry
'As an added bonus, Liesje 992 also passes her qualities on to her descendants', her breeder continues. Her lactating third-calf daughter by S-S-I Mogul Reflector is registered with 87 points and has lifetime production until present of 24,500 kg milk with 5.10% fat and 4.00% protein.
And her daughter by Double W Rush Hour topped the charts of heifers with high NVI genomic breeding values for a while and was therefore snapped up by CRV. And her pairing with Delta Fisherman produced InSire Topstier Delta Limbic, one of the highest ranked NVI bulls in CRV's portfolio.
Plus, via in succession daughters by Fanatic and Silver, Liesje 992 is also the great grand dam of Peeldijker Cranberry (s.Delta Concert).
Promising granddaughters
Priems also milks a full sister of Limbic's dam. Her heifer list predicts 9300 kg of milk with 4.26% fat and 3.78% protein (lactation value of 108). Her half-sister (sired by Delta Barrage) has a lactation value of 130. Both heifers seem to have all it takes to follow in their grand dam's footsteps.
Photographer Alger Meekma has made a film of 100-tonner Peeldijker Liesje 992. Watch the film below.